Monday, December 13, 2010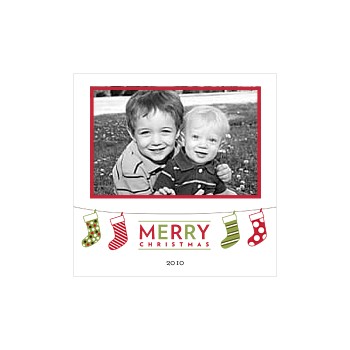 Stocking Clothesline Christmas Card

Posted by

WayTheyDance
at 4:19 PM
No comments:

Tuesday, December 7, 2010
Shutterfly
as always has beautiful and fun designs for
2010 holiday cards
and other
photo products
! I look forward to working with one of
Shutterfly's
great card designs to create our
Christmas card
this year. We're using a beautiful black and white portrait of our little boys for our card this year. Deciding on my favorite card instead of the right photo or photos is the more difficult task for me this year. Whatever design I choose will be one of the very colorful and vibrant card designs so there will be good and flattering contrast with the black and white portrait of our boys, and it will need to accommodate a landscape portrait.
I think the
Classic Wreath 5 X 7 photo card
is gorgeous, but I don't think the shape and size of the area for the photo will work for the photo we're using this year. It's absolutely beautiful though and would use this design in a heartbeat! The warm chocolate brown and cheery wreath design are great!
Shutterfly's
"
With Love Chartreuse Christmas Card
" is a beautiful and modern twist on the traditional photo Christmas card. Bold and bright color contrast between the bright green and rich red is striking. The single initial monogram enclosed in a decorative circle is a great and modern touch. I'm one who usually has trouble narrowing down to just a one or even a few photos for photo cards. This card give you the incredible option of 5 photos on the front of one card! If you love multiple photo card layouts, this is a great fit for you! The font and filigree designs accenting this card are beautiful. I really love everything about this card! 5 photos, an initial monogram, the year prominently displayed, and space for a personalized greeting all on the front of one card makes this an excellent choice for your
photo card
needs.
Shutterfly's
Kaleidoscope Stars Christmas Card
is a quirky and fun
holiday card
option for those looking for something unique, modern, and pretty. The square shape of the card is great and modern too. It's definitely not a traditional Christmas card design, but it's an awesome and attractive design that will appeal to many. It's a great card to showcase a landscape snapshot photo or portrait! I love the contrast between the rich and bright green and red and the chocolate brown.
This
Shutterfly
Flourish Wreath Christmas Card
card design is stunning! I love the filigree wreath design that frames the photo on this card. My only wish with this design would be for the background to be something other than white. It does look beautiful on screen, but I just wonder if the background would just look very blank and kind of like wasted space when printed and in person. The only reason I say this is I made a photo collage through a different photo printing service and much preferred the colored borders/background for my collage to the white background. I used the same exact collage design and photos and a colored background looked so much better. Despite this, this card is still one of my absolute favorites of the
Shutterfly 2010 holiday card collection
! The more I think about it, the white is the right background to not take away too much from the delicate green filigree wreath design. What would have improved this design would be a colored border, not a colored background. Had the entire card been "framed" in even a very thin red border it would have appealed to me even more. Isn't it just so lovely???
This
Shutterfly
2010 Wishes Card
is a simple yet beautiful way to showcase 4 photos on one card: one landscape large photo at the bottom and 3 square format photo spots are at the top. A beautiful flourish frames the year which and the personalized greeting is centered below the year. As you can see, it's the perfect card choice to provide beautiful contrast for your favorite black and white photos.
I'm happy to say I recently placed my first order with
Shutterfly
last month for a
photo book
. I was so impressed and loved it so much I ordered more books as soon as I received my first
Shutterfly
photo book. We spent a beautiful weekend in the NC mountains with my parents, my brother, and our two little boys. I commemorated our family trip with a
Shutterfly
photo book
and couldn't be happier with the results. It's a beautiful book showcasing beautiful family memories! So many firsts happened on this trip too which makes it even more special.
Our 4 year old got to go fishing for the first time and he caught not one but 4 fish on his first day! We thought day 2 was a wash, but he finally caught one right before we almost called it a day. My dad was able to share this exciting first with his first grandson and it was so special. He also got to go gem mining for the first time, and my husband had never been gem mining before either. My brother and I hadn't been since we were kids so it was fun for all. My parents really enjoyed it with us also. I also did a little mountaintop photoshoot with our little guys, our youngest was 16 months old at the time and our oldest was about to turn 4. As you can imagine it's hard to coordinate photos of the two of them, but I managed to get a few precious shots. The view was amazing from the beautiful home a family friend so graciously allowed us to use for the weekend!
I can't wait to create a beautiful 2010 holiday card for our family using one of
Shutterfly's
awesome designs! I know I will love our
holiday cards
because the
photo books
are beautiful, high quality, and a great value!
If you currently have an established blog (new blogs created for the sole purpose of participating in this promotion would not be eligible), you may be interested in participating in
Shutterfly's 50 Free Holiday Card promotion
. Registration closes on December 10, 2010 and the promotion ends December 31, 2010.
Posted by

WayTheyDance
at 6:14 PM
No comments: